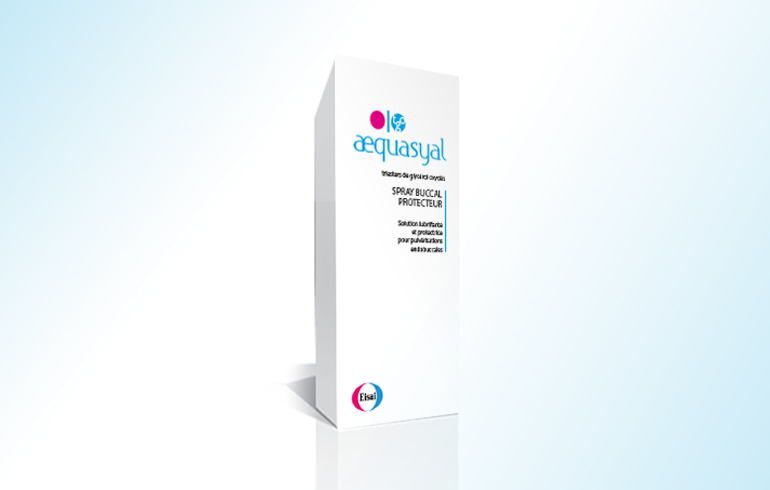 AEQUASYAL
Relief of dryness of the mouth (medicines or radiotherapy induced iatrogenic hyposialism or asialia) OGT base solution for oromucosal pulverisation. Controlled clinical trials have demonstrated that the solution improves fastly and significantly the symptomatology associated with dryness of the mouth.

Triple effect of the solution:
- lubricating
- adherence with formation of a lipidic film which limits the water loss and restores the viscoelasticity of the oral mucosa
- protects against local agressions

CLINICAL STUDY (FIRST)

Study title

CARIL/001/03 ''Multicentre controlled parallel groups trial to evaluate the efficacy, safety and acceptability of OGT oromucal spray versus a saliva substitute in the treatment of psychotropic medicines induced xerostomia''

Invetigators

Dr Orler, Psychiatrist, Head of clinical department - Hôpital des Broussailles – Cannes - France

Study design

Multicentre, controlled, randomised, parallel groups study. This study is part of the CE marking.

Study procedure

Number of patients: 72

Evaluation periods: D0 (inclusion) and D14 (end of treatment)

1 to 2 pulverisations every 3 hours which corresponds to 5 applications per day and more if needed.

Primary endpoint:
at D+14: Dry mouth sensation evaluated by patient with the result reported using 100 mm visual anological scale (VAS) scores noted in patient questionnaires for days 0 and 14.

Other endpoints:
- Variation in symptomatology by investigator
- Variation in symptomatology by patient
- Clinical examination of mouth soft tissues by investigator
- Compliance and acceptability of trial

Results Conclusions

Statistical Report Réf. : 1030022PH Dermscan Pharmascan (2005)

After 14 days of treatment, oral dryness statistically differed on average according to the treatment group and was significantly less important among the patients treated with product B than those treated with product A (p=0.006, Product effect of Covariance Analysis (variables transformed in ranks) with the basal value as covariable). Product B is therefore more efficacious than product A in the decrease, within 14 days, of the sensation of oral dryness felt by the patients.
PUBLICATION
ARTICLE
''Efficacy of a new oral lubricant solution in the management of Psychotropic drug-induced Xerostomia''
AUTHORS
Stéphane Mouly, MD, PhD, Jean-Baptiste Orler, MD, Yves Tillet PharmD, Anne-Claude Coudert, PharmD, Frantz Oberli, PhD, Philip Preshaw, MD, Jean-François Bergmann, MD
JOURNAL
Journal of Clinical Psychopharmacology :
Volume 27. N° 5. October 2007
CLINICAL STUDY (SECOND)
Study title
CARIL/002/03
''Multicentre controlled parallel groups trial to evaluate the efficacy, safety and acceptability of OGT oromucal spray versus a saliva substitute in the treatment of xerostomia in geriatrics''
Invetigators
Dr Michel Salom, Gerontologist, Clinical center of gerontologist Léopold Bellan - Magnanville - France
Study design
Multicentre, controlled, randomised, parallel groups study
Study procedure
Number of patients : 41
Evaluation periods : D0 (inclusion) and D14 (end of treatment)
1 to 2 pulverisations every 3 hours which corresponds to 5 applications per day and more if needed.
Primary endpoint at D+14: Dry mouth sensation evaluated by patient with the result reported using 100 mm visual anolog scale (VAS) scores noted in patient questionnaires for days 0 and 14.
Other endpoints:
- Variation in symptomatology by investigator
- Variation in symptomatology by patient
- Clinical examination of mouth soft tissues by investigator
- Compliance and acceptability of trial
Results Conclusions
Statistical Report Réf. : 1030093PH
1030093PH Dermscan Pharmascan (2005)
Product A: Oral SALIVA SUBSTITUTE
Product B: Oral Spray OGT
Dry mouth evaluation (ITT analysis)

* Student's test for paired data ** Analysis of covariance with baseline value as covariable
At D14, for this primary endpoint, the difference was to the advantage of the group of patients treated with OGT and this difference was statistically very significant (p=0.001)
PUBLICATION

ARTICLE

''Xérostomie du sujet âgé : intérêt d'un traitement local par application d'un spray buccal de triester de glycérol oxydé comparé à une salive artificielle de référence''

AUTHOR

Michel Salom

JOURNAL

La Revue de Gériatrie, Tome 31 N° 10 – Dec. 2006
_

ARTICLE

''Management of xerostomia in older patients : A randomised controlled trial Evaluating the efficacy of a new oral lubricant solution''

AUTHORS

Stéphane Mouly, Michel Salom, Yves Tillet, Anne-Claude Coudert, Frantz Oberli, Philip M. Preshaw, Stéphane Desjonquères, Jean-François Bergmann

JOURNAL

Drugs & Aging 2007 ; 24(11) ; 957-965