RD2
Indication: Symptomatic treatment of genital herpes.
Protective genital gel with OGT RD2 is a protector and covering gel indicated in the symptomatic treatment of genital herpes. RD2 covers the herpetic lesions with a protector invisible film. So doing, it protects and facilitates the healing process. From the first day of treatment, RD2 has a positive effect on painful signs and symptoms of herpes. The efficacy of RD2 has been demonstrated in a comparative clinical study against placebo.

RD2 (results scientifically proven) :
- Relieves significantly the painful symptoms of genital herpes as the first day of application.
- Relieves the other symptoms of genital herpes (pruritis, itching, burning) as the first day of application.
- Reduces the time to cure

Clinical study

Study title

CARIL/001/08 ''Evaluation of the efficacy and safety of CS 21 protective barrier gel compared to placebo on symptoms of genital herpes''

InvestigatorS

Prof. Jean-Paul Ortonne, Head of Clinical Department, Dermatologist, University hospital center l'Archet 2 – F - 06200 Nice

Study design

Multi-centre study conducted by a single-blinded investigator on two parallel groups of 20 patients (total: 40 patients); this study is part of the CE marking.

Study procedure

2 phases :
- An eligibility period lasting a maximum of 4 months during which recurrence of genital herpes must occur.
- A treatment phase after onset of symptoms
Screening visit: the investigator checks that the patient satisfies all of the inclusion and does not present any exclusion criteria.
Eligibility period: Following the screening visit, patients should experience a recurrence of genital herpes within the 4- month eligibility period. As soon as the patients experience the first symptoms of recurrent genital herpes, they must consult the investigator within 36 hours.
Treatment phase : Visits at D1, D2, D3, D8 and D15

Primary endpoint:
Intensity score of subjective symptoms (burning pain, itching, prickling and their sum) evaluated by the subject on a visual analogue scale (VAS)

Secondary endpoints:
- Lesion clinical scores (oedema, erythema, vesicles) on a scale from 0 to 3.
- Time to cure evaluated by the investigator.

Safety: Local tolerance: test product acceptability and tolerance questionnaire.
Adverse events.

Results

PAIN SCORE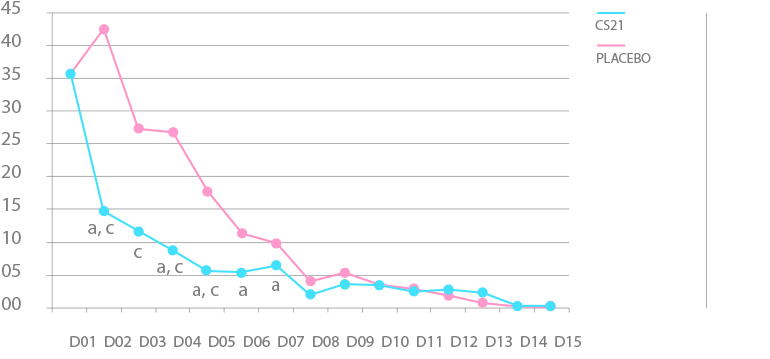 HEALING TIME

Publication
Article
Evaluation of the activity and safety of CS21 barrier genital gel compared to placebo in symptoms of genital herpes recurrences: a randomized clinical trial.
AuthorS
A . Khémis, Luc Duteil, A.C. Coudert, Y. Tillet, O. Dereure, J.P. Ortonne
Journal
JEADV :
Journal of the European Academy of Dermatology and Venereology