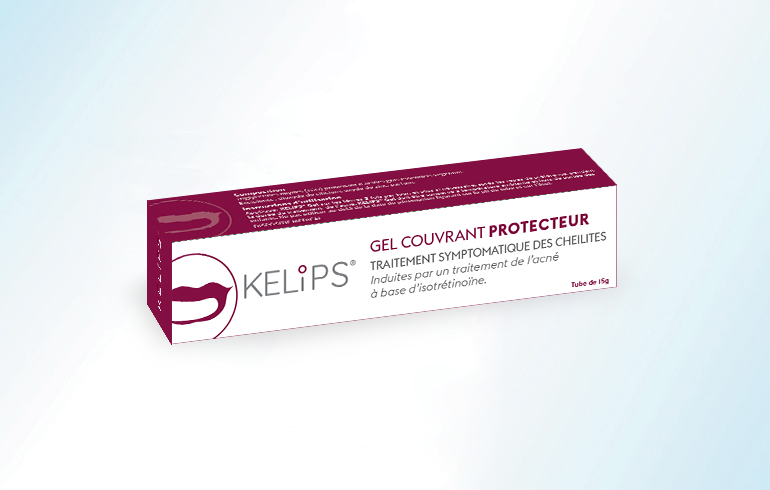 KELIPS Gel
STUDY TITLE
To evaluate the efficacy and tolerance of KELIPS® gel in the improvement of cheilitis and the prevention of its appearance at 3 months in acne patients treated with isotretinoin (principal objective).
CRO/INVESTIGATORS
Study carried out in France among 15 dermatologists in hospitals or private practice. CRO: CLINACT
STUDY DESIGN
Pilot, open, non-comparative, prospective, multi-center on 53 patients (February 2015 up to March 2016).
STUDY PROCEDURE
Inclusion period: 6 months
4 visits per patient
- M0 : Inclusion
- 1st follow up visit at 1 month
- 2ème follow up visit at 3 months
- 3ème follow up visit at 5 months
Treatment
Minimum of 3 applications per day of the gel after meals.
ASSESSMENT CRITERIA
As a preventive treatment:
- Efficiency of KELIPS® Gel in the full prevention the onset of cheilitis at 1, 3 and 5 months
As a curative treatment:
- Efficiency of KELIPS® Gel on the reduction of individual clinical signs of cheilitis.
Tolerance and acceptability criteria are as follows:
- Tolerance of the gel over a 5-month period, - Level of patient satisfaction, - Patient observance of the treatment.
RESULTS
SOBJECTIVE CLINICAL SIGNS OF CHEILITIS (ITT)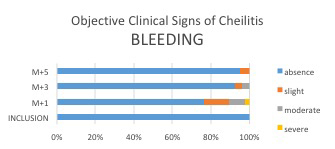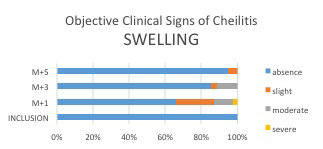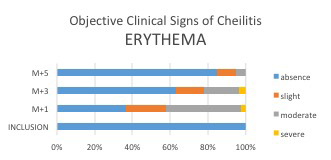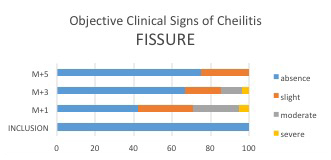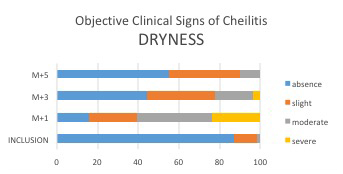 SUBJECTIVE CLINICAL SIGNS OF CHEILITIS (ITT)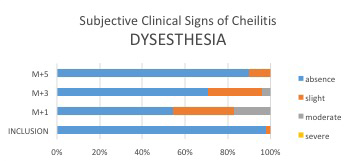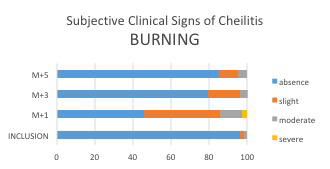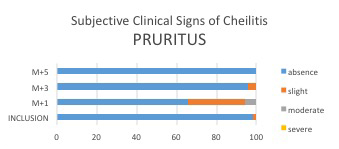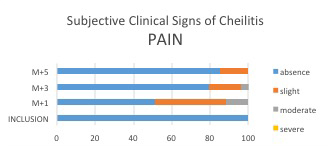 EVALUATOR CONCLUSION
The objective of the prospective, multicentric, non-comparative clinical study conducted on 53 patients was to evaluate the efficiency of the OGT gel used as a preventive and curative treatment on acne prone patients treated with isotretinoin and likely to present or presenting cheilitis. It proved that, on a preventive level, the OGT gel was efficient in 27% of all observing patients.
On a curative level, the signs of cheilitis significantly decresead as early as month 3 visit and month 5 visit with percentages of patients presenting no increase in signs and a decrease in intensity of the signs as early as month-1 visit up to month-5 visit, for all the signs. As expected, the OGT gel proved more efficient with observing patients.
In the study, only 5 patients presented minor undesirable events that were deemed attributable to the OGT gel and all resulted in full patient recovery with no after effect, on a total of 37 patients who presented 109 adverse events. The majority of adverse events having, in all logic, been attributed to the isotretinoin.''