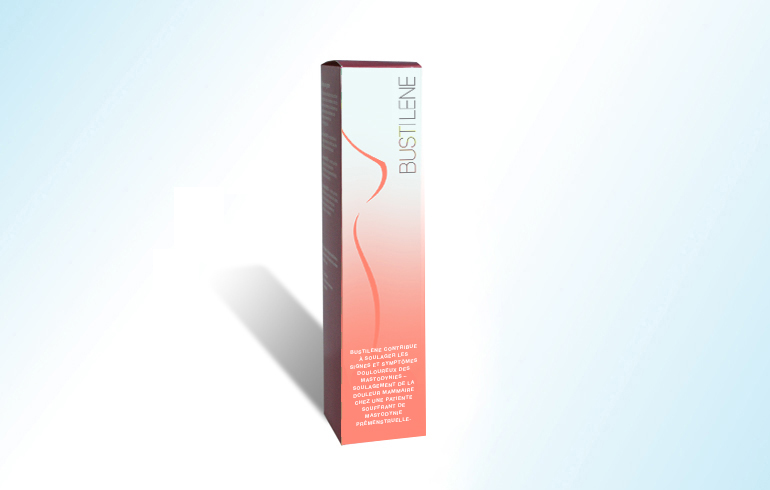 BUSTILENE
STUDY TITTLE

''Study of the clinical efficacy of Bustilène cream for local use, in the treatment of mastodynia and premenstrual syndrome''

INVESTIGATORS

• Doctor Brigitte Clavier, Gynecological and obstetric Clinic – University Hospital Center Charles-Nicolle – Rouen, France
• Doctor Valérie Saubry-Bobet, Clinic du Cèdre - Bois-Guillaume, France

STUDY DESIGN

Open-label preliminary study on 45 women.

STUDY PROCEDURE

This clinical study was conducted over a period optimally corresponding to 3 menstrual cycles.

- Primary endpoint: Reduction of breast pain, tension, heaviness, feelings of heat and inflammation, reduction of oedema.
- Secondary endpoint: rapidity of action, durability, cosmetic evaluation of the product.
Each patient received the tested product.

The patient must applied a small amount of cream onto each breast, twice a day, for about a fortnight preceding the presumed date of menstrual bleeding.

- C0 – 1st visit : Inclusion
- C1 – 2nd visit was held during the premenstrual period, about one week before
the presumed date of the menstrual bleeding.
- C2 – 3rd visit was held also about one week before the presumed date of the fourth period

RÉSULTATS/CONCLUSIONS

Overall, between the inclusion visit C0 and the last visit C2 corresponding to an optimal treatment of 3 cycles, a marked improvement was observed for:
- Pain in 63% of cases
- Tension in 71% of cases
- Heaviness in 69% of cases
Results are identical on other parameters excepted for oedema where an improvement was observed in 100% of cases.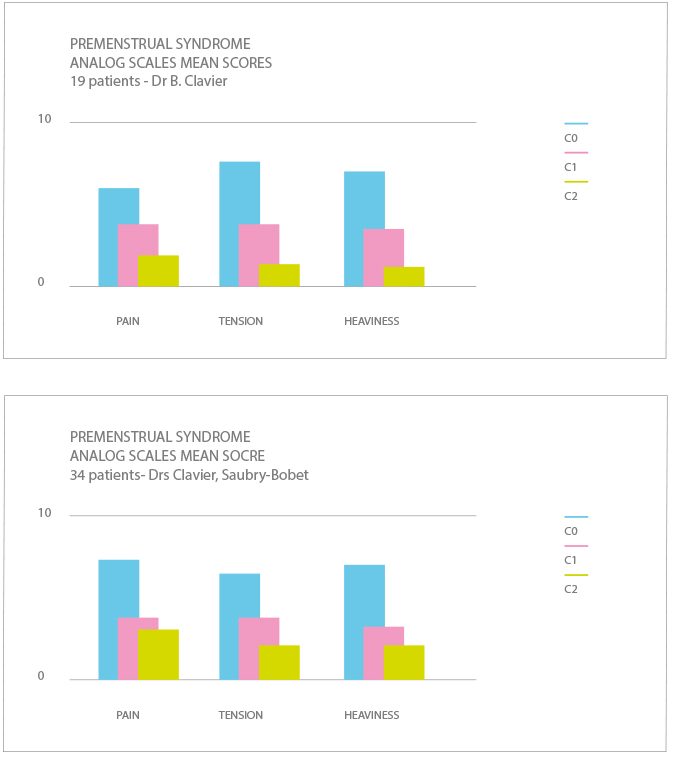 EXPERTS CONCLUSION
This study conducted in Rouen on a population of private practice patients and a population of patients attending the teaching hospital breast clinic demonstrated a number of interesting points:
• The diversity of the clinical symptoms and signs presented by the patients included.

• The very small number of patients who dropped out of the study for reasons related to the test product (texture, absence of improvement).

• The very rapid and indisputable efficacy of the product on subjective symptoms and the marked improvement of the breast examination performed by the clinician.

• Almost all patients (87%) were completely satisfied by the relief provided by the product and wanted to continue treatment.